Rashila Amin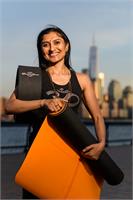 Rashila is an E-RYT200 and an RYT500 Yoga Instructor as well as a certified Dharma II & III Sri Dharma Mittra Yoga Teacher. She gained her 200hr Yoga Alliance Training through the amazing teachers at Sonic Yoga Centre in NYC, and then continued to excel onto her 300hr with the Guru himself, Sri Dharma Mittra.
She has additional experience with the Sivananda practices as well as other Vinyasa styles. Her own yoga journey started when she was a little girl. Being brought up in a household of yogi parents, Meditation and Bhakti yoga was already strongly embedded. This is what you will see in her classes, the natural formation of breathing and meditation along with a powerful asana practice. She encourages you to push beyond your boundaries both physically and mentally all whilst the melodies of funky tunes are being played in the background!
Rashila Amin instructs the following:
Enjoy this Vinyasa flow of breath and movement with attention to alignment. Variations offered for strong practitioners. Learn how to take your practice seriously, but yourself lightly.

RECOMMENDED FOR ALL PRACTITIONERS.




Dharma Yoga is a graceful, yet challenging form of yoga based on Sri Dharma Mittra's almost 60 years of practice of classical yoga. As students move through the different series, they are encouraged to go deeper and experience the practice in a meditative and spiritual way.

In essence, Dharma Yoga is a system of classical Hatha-Raja Yoga. A devotional practice that emphasizes good health, a clear mind and a kind heart. The method weaves together many teachings in order to bring all students closer to the goal of Self-realization.

OPEN TO ALL LEVELS. PRIOR YOGA EXPERIENCE HIGHLY RECOMMENDED.