Rashila Amin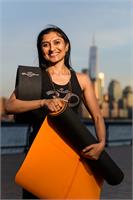 Rashila is Radha, her given Birth name and now her spiritual name. Born in London in 1970, she has had the privilege of practicing yoga from a young age due to her heritage.
Not only does she hold more than 1500hrs of accredited training to date, but also the Sadhana (Practice of Yoga) that spans over her entire lifetime (especially Meditation). Rashila is guided by Sri Dharma Mittra and is an Advanced Certified Teacher under him. She also teaches at the Dharma Mittra Centre in NYC and is blessed by Dharma's wisdom on a daily basis. Some of her trainings to name a few are: 200hr Sonic Yoga NYC; 500hr Advance Training Sri Dharma Mittra, 200hr Science of Self Training NYC; 100hr Advance Yoga Psychology training, Nalanda Institute of Contemplative Science NYC; Mantra Intensive Training, Om Swami, Bangalore India and Rudra Yaga Training, Pandit Rajmani Tigunait, PA.
Her Yoga upbringing was and still is influenced by the Himalayan Masters. She is very reverent on the teachings of Classical Yoga and the ancient Yoga Siddhas and Seers before us. Expect to be physically challenged in her classes. You will also be shown how to Meditate, do Pranayama (Breathing Techniques) and apply Mantras in her practice. Raja Yoga and the 8 Limbs of Yoga is the teachings she will guide you into as you progress deeper and deeper into the whole practice of Yoga. Rashila is a Yoga Instructor who inspires you to get strong, build strength and resilience as well get you towards flexibility and lightness in the body. She has been with Surya Hoboken since 2013. Previous Yoga experience is recommended for her classes.
Rashila Amin instructs the following:
Dharma Yoga is a graceful, yet challenging form of yoga based on Sri Dharma Mittra's almost 60 years of practice of classical yoga. As students move through the different series, they are encouraged to go deeper and experience the practice in a meditative and spiritual way.

In essence, Dharma Yoga is a system of classical Hatha-Raja Yoga. A devotional practice that emphasizes good health, a clear mind and a kind heart. The method weaves together many teachings in order to bring all students closer to the goal of Self-realization.

This is a physically challenging class. PRIOR YOGA EXPERIENCE IS HIGHLY RECOMMENDED.