Leah Boston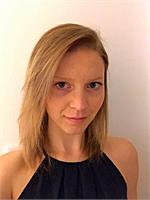 Leah Boston is RYT-200, a fitness enthusiast and clean eats blogger. After being plagued with multiple health conditions, Leah took it upon herself to embark on a path of holistic healing.
After a period of personal study, Leah found that her beliefs aligned well with a yogic lifestyle, which brought her focus back to her asana practice and her teachers at Surya Yoga Academy. As Leah progressed, she yearned to deepen her personal practice and share her story of healing with others who may also struggle with health conditions.
Encouraged by her teacher, Steven Cheng, Leah began to research teacher training programs. She chose to study under Anayra Calderon and Victoria Arvizu to at Surya Yoga Academy to receive her RYT-200 hour certification.
Leah's classes are Hatha inspired Vinyasa flows set to modern music for a fun and uplifting mood that not only challenges the body but encourages physical, mental and spiritual healing.
Leah Boston instructs the following:
Begin your day with this energizing hot vinyasa flow class. Class will include a warm up, energizing, detox, and cool down phases to give you a wonderful start to your day.

OPEN TO ALL LEVELS. PRIOR EXPERIENCE RECOMMENDED.