Angela Rauscher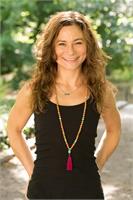 Angela has been practicing yoga and living a yoga lifestyle for over 15 years. She is a 500­hour Yoga Alliance Registered Yoga Teacher, receiving her yoga teacher certification and Let Your Yoga Dance® certification from the Kripalu School of Yoga, and her professional level yoga leadership certification from Shakti Initiation in Bali, Indonesia.
Although Angela initially started practicing yoga to heal physical injuries from a bad car accident, she soon discovered the healing power of yoga extended from body, to mind and spirit, on and off the mat. To Angela, yoga is more than asana practice (the postures); it has been, and continues to be, a life changing journey and commitment to her true self.
Angela creates a mood in each class, weaving her knowledge of the energy systems of the body (the chakras) with thematic yogic philosophy, original sequencing, breathing techniques, mantra and meditation. She believes in the philosophy that yoga should meet your body where it is now, and that yoga is a practice of inquiry and consciousness, unique to each individual. Her classes are spiritually driven, infused with compassion, encouragement and support, offering a safe space for students to explore and discover their personal edge.
Angela is committed to helping people live life to their highest potential and feels blessed to be able to support others on their yoga journey. She has been studying Buddhism for the past 5 years, and continues to study and practice yoga on and off the mat, on a daily basis.
Angela Rauscher instructs the following:
This class is a great introduction to Hot Vinyasa Flow. It's a great class for an introduction to Hot Yoga. Class includes basic forward and backward bending poses, twists, basic flows, lunges and basic inversions.

RECOMMENDED FOR BEGINNERS AND ADVANCED BEGINNERS.




Enjoy this Vinyasa flow of breath and movement with attention to alignment. Variations offered for strong practitioners. Learn how to take your practice seriously, but yourself lightly.

RECOMMENDED FOR ALL PRACTITIONERS.