Christina Hart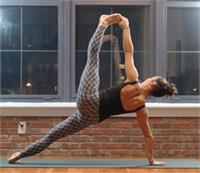 When Christina first stepped onto a yoga mat in 2007, it seemed a natural transition from the dance she studied and adored for the first 18 years of her life. The yoga studio quickly became her sanctuary, a place where she could shine and connect to her most authentic self. As her devotion to yoga grew deeper, Christina pursued her 200-hour certification through Surya Yoga Academy in Hoboken, NJ, under the instruction of Anayra Calderon and Victoria Arvizu.
Christina is a dynamic, thoughtful and disciplined instructor focused on conveying knowledge to her students in every class she leads. She teaches a Vinyasa flow class that combines discipline and compassion to encourage her students to work to their full potential. Her class is fast-paced, fun, and energetic.
Christina has spent the last 3 years working in private wealth services. Her background is portrayed in her style of teaching through her methodical approach, as well as her emphasis on finding balance, growth and relaxation through yoga.
Christina Hart is currently not instructing any classes.