Cheryl Clark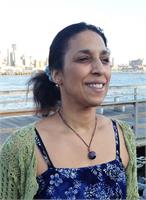 Cheryl Clark brings to her classes extensive experience and practice of the moving body. She is the Director of Education and senior teacher at the Laban/Bartenieff Institute of Movement Studies, where she received Certification in Laban Movement Analysis. She is also a Certified Practitioner of Body-Mind Centering®, Registered Movement Therapist and Somatic Movement Educator. She brings her experience as a performer and teacher of movement to many populations including dancers, actors, singers, babies and the elderly. She is certified 200 hour and prenatal certification from Floryoga. Her teaching emphasizes awareness of details and acknowledges the unique process and journey of each individual. She remains grateful to her most important teachers - her students.
Cheryl Clark instructs the following:
LOCATION: Jersey City

Bond with your baby and with other Moms!

Our Prenatal Yoga offering is designed to ease you into a safe and fun yoga practice. Students will be guided through step by step instruction of basic yoga postures. Modifications will be given where needed.

The class is designed for both expectant and postnatal Moms.



The following topics will be covered in the series:


Standing postures
Forward & Backward bending
Sun Salutation with variations
Pranayama(breath work)



The room will not be heated.

Whether you are a true beginner or have been practicing for a bit and still feel like you need a deeper understanding of the basics, this series is for you.



Prior enrollment required.