Carissa Herencia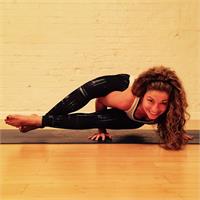 Carissa is a 300-hour certified yoga instructor. She completed her initial 200-hour teacher training with Yoga in the World (at Surya Yoga Academy) in January 2016, under the guidance of Anayra Calderon and Victoria Arvizu. In June 2017, she completed an additional 100 hours of training with Anayra Calderon, focusing on the Yin practice. Carissa enjoys sharing her passion for yoga with others. She hopes to bring her students the strength and stability that helped shape her own practice, with the added goal that lessons on the mat will transcend off the mat. Carissa teaches a well-sequenced flow to upbeat music, focusing on alignment as well as coordination of the body, breath, and mind. You can expect to work up a sweat, play with an arm balance or an inversion, and still find some time for meditation in her class.
Carissa Herencia instructs the following:
Begin your day with this energizing hot vinyasa flow class. Class will include a warm up, energizing, detox, and cool down phases to give you a wonderful start to your day.

OPEN TO ALL LEVELS. PRIOR EXPERIENCE RECOMMENDED.