Kaity Schanks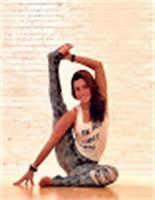 Kaity began a serious love affair with yoga when she discovered Surya Yoga Academy hoping to calm her hectic life, and live a healthier lifestyle. After one class, she quickly realized how deeply she loved the heated practice and was inspired by the community that surrounds it. In her class, you can expect to find strong and powerful vinyasa flows guided by encouraging instruction that promote body awareness and proper alignment for all types of students. She will safely guide you to challenge your physical yoga practice, no matter your level, in hopes that you explore your flexibility – but have fun in the process of breaking out of your comfort zone. She is grateful to be able to share the benefits that yoga brings and contribute to her yoga community.
Kaity is registered with the Yoga Alliance and received her RYT 200 with Yoga in the World under the guidance of Anayra Calderon, ERYT500.
Kaity Schanks instructs the following:
This class combines the physicality of power yoga; the creative flow of vinyasa; adding attention to alignment, fun and philosophy. This is a strong, challenging class with variations offered for strong beginners. Build your upper-body and core strength, develop better balance and concentration, while improving your cardiovascular stamina.

OPEN TO ALL LEVELS. PRIOR YOGA EXPERIENCE RECOMMENDED.




Enjoy this Vinyasa flow of breath and movement with attention to alignment. Variations offered for strong practitioners. Learn how to take your practice seriously, but yourself lightly.

RECOMMENDED FOR ALL PRACTITIONERS.




Give yourself a powerful Cardiovascular workout in our Power Vinyasa Class. This Hot Yoga class is a sure-fire way to get an unbelievable yoga workout. There wil be some Intermediate level postures but beginners can do modifications.

PRIOR YOGA EXPERIENCE RECOMMENDED. OPEN TO ALL LEVELS.




Begin your day with this energizing hot vinyasa flow class. Class will include a warm up, energizing, detox, and cool down phases to give you a wonderful start to your day.

OPEN TO ALL LEVELS. PRIOR EXPERIENCE RECOMMENDED.




Dharma Yoga is a graceful, yet challenging form of yoga based on Sri Dharma Mittra's almost 60 years of practice of classical yoga. As students move through the different series, they are encouraged to go deeper and experience the practice in a meditative and spiritual way.

In essence, Dharma Yoga is a system of classical Hatha-Raja Yoga. A devotional practice that emphasizes good health, a clear mind and a kind heart. The method weaves together many teachings in order to bring all students closer to the goal of Self-realization.

OPEN TO ALL LEVELS. PRIOR YOGA EXPERIENCE HIGHLY RECOMMENDED.