Ida Kenna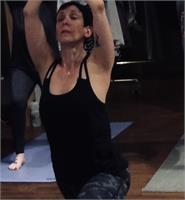 Ida is a 200 hour certified yoga teacher with "Yoga in The World," trained and guided by her beloved teacher Anayra Caldron. Ida has practiced yoga and meditated daily for her entire adult life.
Ida is a licensed Psychotherapist with a strong focus on "Mindfulness," focusing one's awareness in the present moment, while calmly acknowledging and accepting one's feelings, thoughts, and movements. Ida's core belief is that we take our yoga off of the mat, and into the world. Yoga is a way of being.
Ida's classes will reflect her love, and knowledge of music. You can expect rock and roll, chanting, instrumental, and every type of music imaginable. Ida's Asana practice will be guided by the precepts of the Yoga Sutras, and often times infused with mythical storytelling. The Asana practice is the journey to meditation. Ida's class will challenge her students, focus on the breath, and prepare them to sit for meditation. Ida's goal is to take you on a one hour spiritual journey. Her intention is to make yoga accessible to all!
Ida Kenna instructs the following:
This class is a great introduction to Hot Vinyasa Flow. It's a great class for an introduction to Hot Yoga. Class includes basic forward and backward bending poses, twists, basic flows, lunges and basic inversions.

RECOMMENDED FOR BEGINNERS AND ADVANCED BEGINNERS.