Melissa Otero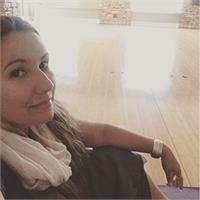 Melissa is a vinyasa yoga instructor and an award winning singer/songwriter with a passion for helping others. Yoga became an important part of her life in the year 2009 after a long battle with depression. Upon discovering yoga and its healing benefits, Melissa dove deep into the practice and finally decided to bring her new found love to others by going through a 200hr Vinyasa Teacher Training in 2015. Melissa hopes to share her love for yoga and music in her classes and inspire others.
Melissa Otero instructs the following:
Enjoy this Vinyasa flow of breath and movement with attention to alignment. Variations offered for strong practitioners. Learn how to take your practice seriously, but yourself lightly.

RECOMMENDED FOR ALL PRACTITIONERS.




Whether you are a true beginner or have been practicing for a bit and still feel like you need a deeper understanding of the basics, this series is for you. This 4 class series is designed to ease you into a safe and fun yoga practice. Students will be guided through step by step instruction of basic yoga postures. Modifications will be given where needed. The following topics will be covered in the series:

Week 1
- Pranayama
- Sun Salutation A, B, C
- Chatturanga Dandasana
Week 2
- Sun Salutation x2
- Humble warrior
- Warrior II
- Trikkonasana
- Extended Side Angle
Week 3
- Sun Salutation x2
- Crescent Lunge
- Warrior III
- Standing Split
- Side Plank
Week 4
- Sun Salutation x 3 or 4
- Camel
- Rabbit
- Lizard
- Pigeon
- Fixed Firm Pose

WHERE: Surya Jersey City

HOW MUCH: $80 for 4 weeks ($20/class)

WHEN: Saturday 12:30pm on Oct 6, 13, 20, 27




This is a 4 week class series for newcomers to Yoga. The series will cover most basic Yoga postures and techniques. Please see the Series tab to register. Pre-registration is required.




Start or develop a safe and beneficial yoga practice. This traditional Vinyasa class explores basic to intermediate level yoga postures, alignment, and breathing techniques. No experience or flexibility requirement.

OPEN TO ALL LEVELS. TAUGHT IS AN UNHEATED ROOM.