Melissa Otero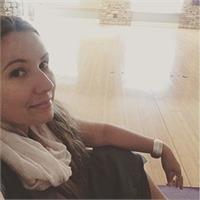 Melissa is a vinyasa yoga instructor and an award winning singer/songwriter with a passion for helping others. Yoga became an important part of her life in the year 2009 after a long battle with depression. Upon discovering yoga and its healing benefits, Melissa dove deep into the practice and finally decided to bring her new found love to others by going through a 200hr Vinyasa Teacher Training in 2015. Melissa hopes to share her love for yoga and music in her classes and inspire others.
Melissa Otero instructs the following:
Enjoy this Vinyasa flow of breath and movement with attention to alignment. Variations offered for strong practitioners. Learn how to take your practice seriously, but yourself lightly.

RECOMMENDED FOR ALL PRACTITIONERS.




This class is a great introduction to Hot Vinyasa Flow. It's a great class for an introduction to Hot Yoga. Class includes basic forward and backward bending poses, twists, basic flows, lunges and basic inversions.

RECOMMENDED FOR BEGINNERS AND ADVANCED BEGINNERS.




Start or develop a safe and beneficial yoga practice. This traditional Vinyasa class explores basic to intermediate level yoga postures, alignment, and breathing techniques. No experience or flexibility requirement.

OPEN TO ALL LEVELS. TAUGHT IS AN UNHEATED ROOM.




This class combines the physicality of power yoga; the creative flow of vinyasa; adding attention to alignment, fun and philosophy. This is a strong, challenging class with variations offered for strong beginners. Learn how to take your practice seriously, but yourself lightly.