Katherine Szekely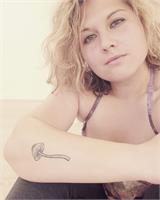 Katherine Szekely is an 800-hour certified Jivamukti Yoga Teacher. Beginning her yoga practice at the age of 16, Katherine has maintained a steady, passionate and devoted asana practice that influences and inspires her teachings. She approaches the practice like a science, seeing every asana as an opportunity to investigate the anatomy of the body and its relation to the habits of the mind, with the ultimate goal of uniting the two so as to transcend their individual limitations. Her classes include a rigorous asana sequence led by the steady drumbeat of the breath, alignment-driven cuing and hands-on assists, eclectic playlists to get the blood pumping and the bhav (collective mood) going and an integration of ancient yoga philosophy for the trials of the modern world. Katherine firmly believes that yoga is and should be for all who are ready to take a step beyond their normal perceptions of self and is dedicated to aiding that individual journey.
Katherine Szekely instructs the following:
A mix of Ahimsa (non-harming), Bhakti (devotion), Nada (sound), Shastra (study), Dhyana (meditation) covering the Five Tenants that make up the Jivamukti method. Classes are physically challenging, spiritually stimulating and full of vibrational music. With a love for the ancient teachings infused with a twist. You will leave feeling oiled and lubricated from the inside out with the feeling of getting closer to your true nature, which is mindful, conscious, perfect and blissful.

Hands-on posture corrections are given. Prior Yoga experience recommended. Some intermediate level postures will be explored in this class.

OPEN TO ALL LEVELS. PRIOR EXPERIENCE RECOMMENDED.




Enjoy this Vinyasa flow of breath and movement with attention to alignment. Variations offered for strong practitioners. Learn how to take your practice seriously, but yourself lightly.

RECOMMENDED FOR ALL PRACTITIONERS.