Kate Szekely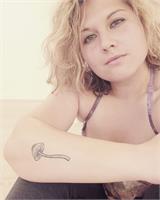 Kate Szekely is a theater maker and an 800 hour certified Jivamukti Yoga teacher. She began her interest in theater at the age of 12, when the perils of middle school introduced bullying and self consciousness. But theater led her to find a creative outlet for her voice. Beginning a rigorous Hatha yoga practice at the age of 16, Kate found these ancient practices to bring her a sense of peace and confidence in her own body. She then moved to New York to attend NYU Tisch for a BFA in Theater. There, as well as continuing her yoga studies, Kate fell in love with physically based theater techniques as a modality of healing coupled to self expression and expansion. She received her 300 hour Jivamukti Certification in May 2016, and continued her studies for her 800+ hour Jiva certification. Since that point, Kate has dedicated her life to exploring and tuning the physical form through art, ritual and yoga to help others expand their potential and consciousness.
Kate Szekely instructs the following:
A mix of Ahimsa (non-harming), Bhakti (devotion), Nada (sound), Shastra (study), Dhyana (meditation) covering the Five Tenants that make up the Jivamukti method. Classes are physically challenging, spiritually stimulating and full of vibrational music. With a love for the ancient teachings infused with a twist. You will leave feeling oiled and lubricated from the inside out with the feeling of getting closer to your true nature, which is mindful, conscious, perfect and blissful.

Hands-on posture corrections are given. Prior Yoga experience recommended. Some intermediate level postures will be explored in this class.

OPEN TO ALL LEVELS. PRIOR EXPERIENCE RECOMMENDED.




Ancient yogis were the fringe of society. They went into the woods and caves outside of town to practice physical and mental techniques, deemed by others as weird, because they envisioned a different, more harmonious way of living. What better way to capture that spirit than with Rock'n'Roll?! Come sweat, move and jam in a rigorous vinyasa set to a diverse soundtrack of classic rock.

Katherine, at heart, would like to consider herself a poet. She moved to New York City at the age of 18 to become like her beatnik idols of the '60s. She studied the history of rock 'n'roll throughout high school, and is an avid record collector. She would love nothing more than to teach Mick Jagger yoga and see Bruce Springsteen on Broadway.

RECOMMENDED FOR ALL PRACTITIONERS.

6/17 - Guilty Pleasures: 80s Edition
6/24 - Summer Solstice: Songs to usher in Summer
7/1 - Americana: July 4th
7/8 - 70s Classic Rock




Enjoy this Vinyasa flow of breath and movement with attention to alignment. Variations offered for strong practitioners. Learn how to take your practice seriously, but yourself lightly.

RECOMMENDED FOR ALL PRACTITIONERS.