Kate Szekely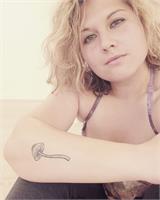 Kate Szekely is a theater maker and an 800 hour certified Jivamukti Yoga teacher. She began her interest in theater at the age of 12, when the perils of middle school introduced bullying and self consciousness. But theater led her to find a creative outlet for her voice. Beginning a rigorous Hatha yoga practice at the age of 16, Kate found these ancient practices to bring her a sense of peace and confidence in her own body. She then moved to New York to attend NYU Tisch for a BFA in Theater. There, as well as continuing her yoga studies, Kate fell in love with physically based theater techniques as a modality of healing coupled to self expression and expansion. She received her 300 hour Jivamukti Certification in May 2016, and continued her studies for her 800+ hour Jiva certification. Since that point, Kate has dedicated her life to exploring and tuning the physical form through art, ritual and yoga to help others expand their potential and consciousness.
Kate Szekely instructs the following:
Enjoy this Vinyasa flow of breath and movement with attention to alignment. Variations offered for strong practitioners. Learn how to take your practice seriously, but yourself lightly.

RECOMMENDED FOR ALL PRACTITIONERS.