Virna Sanabria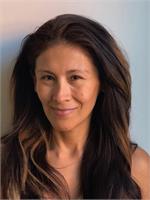 Bolivian born Yoga teacher, Virna Sanabria takes cues from the "Pachamama" or Mother Earth. Her philosophy is, the "root to rise" methodology creates opportunities within a pose to get connected (to the Earth) which allows for greater stability and spacial awareness. Once these qualities are harnessed, a student is better able to explore the posture in his/her own unique way.
Virna is trained in the Traditional Hatha Yoga 26-posture sequence (mostly practiced in a hot yoga room) and Vinyasa Flow. Both of which she holds 200-hour Yoga Alliance approved teacher training certifications. Additionally she holds a certification in the Barkan Method, a Vinyassa / Hatha Yoga sequence teacher training.
Virna Sanabria instructs the following:
Hot HIIT is a training system that combines muscle toning and cardio in a room heated to around 100 degrees. The practice creates long, lean muscle mass while burning fat. It also, in turn, creates rapid results. It strengthens your core, improves circulation, and increases flexibility.

Hot HIIT is performed on a yoga mat. All movements are low impact, which protects your joints and muscles from the pounding of other exercises like running and jumping. It is a beat based, full body workout paired up with upbeat music. You will gain health and flexibility and train your muscles to work together.

Hot HIIT is a workout style class. It is NOT a Yoga class.




Enjoy this Vinyasa flow of breath and movement with attention to alignment. Variations offered for strong practitioners. Learn how to take your practice seriously, but yourself lightly.

RECOMMENDED FOR ALL PRACTITIONERS.




This class is a great introduction to classical Hatha Yoga, albeit done in a Hot room. It's a great class for people who are looking for a deep stretch, dealing with injuries, trying to build endurance, and/or looking for an introduction to Hot Yoga.

This class works all major muscle groups, joints, and organs. It includes basic forward and backward bending poses, balancing, twists, and breathing.

RECOMMENDED FOR BEGINNERS AND ADVANCED BEGINNERS.