Megan Venzin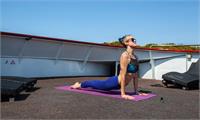 After moving to NYC to study improv comedy at the Upright Citizens Brigade in 2009, Megan quickly realized that her fast-paced lifestyle needed more balance. The few free moments she found between work and late night sets were devoted to an ever growing vinyasa practice.
Megan's reliance on yoga for steadiness of mind eventually brought her to PURE Yoga's teacher training certification program, where she studied under the instruction of Kay Kay Clivio and Yogi Charu. Today, Megan's focus has shifted to writing and fitness. When she's not instructing high-energy classes, you can find Megan covering festivals and other events for the Brooklyn-based blog, FREEwilliamsburg and Metrosource Magazine. She will incorporate your special requests into playlists, just ask.
Megan Venzin instructs the following:
Begin your day with this energizing hot vinyasa flow class. Class will include a warm up, energizing, detox, and cool down phases to give you a wonderful start to your day.

OPEN TO ALL LEVELS. PRIOR EXPERIENCE RECOMMENDED.




Enjoy this Vinyasa flow of breath and movement with attention to alignment. Variations offered for strong practitioners. Learn how to take your practice seriously, but yourself lightly.

RECOMMENDED FOR ALL PRACTITIONERS.