Paton Ashbrook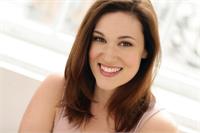 Paton Ashbrook first found Bikram Yoga when she was looking not only for a challenging workout, but for some much needed "centering" to balance out working in the performing arts industry. Within the first few months Bikram yoga alleviated her chronic knee pain and several years later it continues to be the best preventive medicine for her mind and body.
It's also through the hot yoga community that she's found her new love, Hot HIIT, which has improved her yoga practice and helped build the muscular strength needed to protect her hypermobile joints.
And of course, singing through the burn is a definite plus. Paton is absolutely thrilled to be teaching Hot HIIT and be apart of this lovely and supportive community.
Paton Ashbrook instructs the following:
Hot HIIT is a training system that combines muscle toning and cardio in a room heated to around 100 degrees. The practice creates long, lean muscle mass while burning fat. It also, in turn, creates rapid results. It strengthens your core, improves circulation, and increases flexibility.

Hot HIIT is performed on a yoga mat. All movements are low impact, which protects your joints and muscles from the pounding of other exercises like running and jumping. It is a beat based, full body workout paired up with upbeat music. You will gain health and flexibility and train your muscles to work together.

Hot HIIT is a workout style class. It is NOT a Yoga class.