Vikram Hirani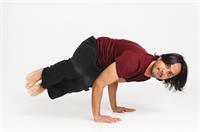 After running a successful small business for many years, Vikram felt called to be of greater service. He realized that sharing his passion for yoga, which had so powerfully transformed his own life, would be the greatest gift he could give to others.
Vikram received his 200HR certification from Laughing Lotus NYC, where he also completed a 50HR advanced certification in Hands-On assists. Thus in Vikram's classes you will experience carefully crafted flows accessible to all levels, with guidance on safe alignment but also encouragement to honor your own body's unique expression of the yoga poses.
Most recently Vikram completed an intensive training with Ali Cramer in introductory Ayurveda, an ancient Indian science of health & wellness, and has begun also incorporating Ayurvedic principles into his classes.
Vikram Hirani instructs the following:
Enjoy this Vinyasa flow of breath and movement with attention to alignment. Variations offered for strong practitioners. Learn how to take your practice seriously, but yourself lightly.

RECOMMENDED FOR ALL PRACTITIONERS.