Vikram Hirani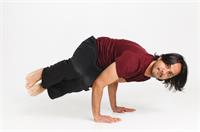 Vikram is a 300HR Advanced Certified Lotus Flow(TM) Vinyasa Instructor. His classes involve dynamic sequences with invitations to explore inversions and arm balances, though modifications are always provided to keep students of all levels in the flow. Vikram's highest priority is for students to enjoy the shapes of yoga in the unique ways that their own body expresses them, celebrating their own individual yoga journey. Classes are built around themes connecting the physical practices to deeper aspects of yoga, so that the student ideally emerges from class balanced in both body and mind.
Vikram Hirani instructs the following:
Enjoy this Vinyasa flow of breath and movement with attention to alignment. Variations offered for strong practitioners. Learn how to take your practice seriously, but yourself lightly.

RECOMMENDED FOR ALL PRACTITIONERS.