Annalisa Venezia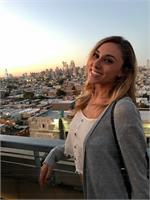 Annalisa is an energetic and outgoing individual and brings her unique style of Vinyasa flow to her classes. She received her certification in 2017 at Younique Yoga under the instruction of Kelly Santucci, E-RYT 200.
She wishes to inspire her students to connect with their own personal wisdom, healing abilities, and expansive potential through the practice of Yoga.
From a very young age, Annalisa was interested in how the human body moves and flows. Her background includes ballet, which is why she immediately fell in love with her first heated Vinyasa Yoga class. It was during her teacher training, she realized Yoga was more than just the "asanas" and applied the practice of Yoga
into her everyday life. Yoga is about balance, discipline, and most importantly, going with the "flow". She designs her classes so that students move with a beautiful
balance of strength and fluidity, and leave class feeling open and energized.
Annalisa Venezia instructs the following:
Enjoy this Vinyasa flow of breath and movement with attention to alignment. Variations offered for strong practitioners. Learn how to take your practice seriously, but yourself lightly.

RECOMMENDED FOR ALL PRACTITIONERS.




This class is a great introduction to Hot Vinyasa Flow. It's a great class for an introduction to Hot Yoga. Class includes basic forward and backward bending poses, twists, basic flows, lunges and basic inversions.

RECOMMENDED FOR BEGINNERS AND ADVANCED BEGINNERS.