Sarah Sumner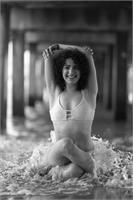 Sarah Sumner believes that yoga is a one of the greatest teachers of compassion, and crafts intelligent sequences to expand the body, heart, and mind to find greater empathy on and off the mat. By focusing on the reasons why we do the asana poses, her students surprise themselves with their willingness to dive deeper in them. She received her 200hr from Laughing Lotus, which helped her understand the importance of fluidity, joy, and intention in every practice.
After receiving her BFA from NYU Tisch School of the Arts, Sarah incorporates her four years of breath, voice and body training into the asana practice, offering her students creative ways to tune in. She is extra sensitive to combine specific alignment cues to protect the body because she first came to yoga because of her severe case of Scoliosis.
Through strong postures and a fierce devotion to the breath, she hopes every student leaves the room stronger and more empowered.
Sarah Sumner instructs the following:
Enjoy this Vinyasa flow of breath and movement with attention to alignment. Variations offered for strong practitioners. Learn how to take your practice seriously, but yourself lightly.

RECOMMENDED FOR ALL PRACTITIONERS.




Start or develop a safe and beneficial yoga practice. This traditional Vinyasa class explores basic to intermediate level yoga postures, alignment, and breathing techniques. No experience or flexibility requirement.

OPEN TO ALL LEVELS. TAUGHT IS AN UNHEATED ROOM.