Sarah Flaherty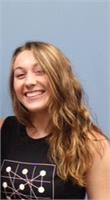 Sarah's love for yoga created a path of joy, understanding & respect with herself and others. Following the motto "always a student" paired with her educational background in Biology gives her an insight on the workings of the human body and it's functions. Expect unique music with challenging and creative sequences that leave students feeling strong, flexible, and uplifted. Her unique style is a blend of the traditions including Hatha, Ashtanga, Vinyasa, Katonah and Laughing Lotus.
Sarah Flaherty instructs the following:
Enjoy this Vinyasa flow of breath and movement with attention to alignment. Variations offered for strong practitioners. Learn how to take your practice seriously, but yourself lightly.

RECOMMENDED FOR ALL PRACTITIONERS.