Asha Rao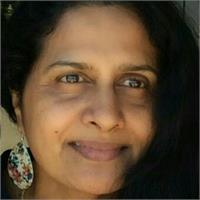 Asha Rao, RYT-500, completed her yoga teacher training in Ashtanga/ Vinyasa Krama at lifetime fitness academy, Sugarland, Texas with Mitzi Henderson and Master Johnny Kest. She also extensively trained in Ashtanga principles and practice with Guruji Jayaram- Patanjali Yoga, and in Hatha Yoga krama with Master Baalayya and Guruji Venkateswar Rao, Hyderabad, India.Asha has taken her passion to many countries and taught Yoga in USA, India,Canada and Dubai and helped hundreds of students enjoy vibrant health.She continues to inspire, encourage students for safe, consistent, at ease yoga practice with added authentic, traditional Yoga essentials.
Asha Rao instructs the following:
This is a Vinyasa class which mirrors powerful Ashtanga practice asanas. A set sequence of Asana practice synchronized with the breath for strength , stamina and flexibility. Incorporate props,music and modifications offered.

OPEN TO ALL LEVELS. BASIC YOGA EXPERIENCE RECOMMENDED.