Former NFL linebacker and current CBS Sports Network college football analyst, Brian Jones, has been practicing yoga for about 9 years. In his five-year NFL career, he played for the Indianapolis Colts (1991) and New Orleans Saints (1995-98).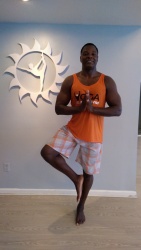 Jones grew up in Lubbock, Texas and took his first yoga class in Austin after a friend suggested he try a class. He was hooked after his first class.
Now living in Weehawken, NJ, the 47-year old former football star practices yoga at Surya's Hoboken locations. With a love for yoga and Surya studios, Jones came up with Surya's new t-shirt slogan,
"
YOGA IS MY GYM
". To purchase your own fierce yoga t-shirt, please stop by any Surya studio location.
Tell me about your experiences with football?
I played collegiate at UCLA & the University of Texas. While I played multiple positions growing up, my primary position in college and the NFL was Linebacker. After numerous injuries (back, knees), I was forced to conclude my playing career in 1998.
What is it about yoga that brings you to the mat at Surya?
Yoga has turned out to be a great remedy for my back and flexibility issues. I've found muscles that I never knew existed-- while simultaneously, instilling within me a peace, physically and mentally.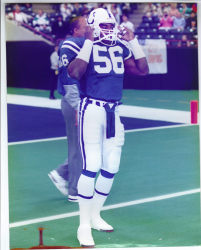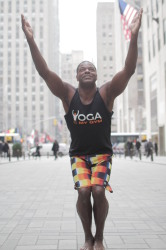 Several NFL players, like Calvin Johnson, practice yoga, how can yoga benefit athletes?
From a flexibility standpoint, I can think of no other exercise as rewarding as Yoga. Additionally, the core strength that is developed through Yoga practice is unparalleled. Yoga also assists in quieting the mind and slowing things down. This aspect is invaluable, especially when faced with crucial moments in competition.
What NFL team are you a fan of?
I'm a life long Dallas Cowboys fan! That was a catch by Dez Bryant versus the Green Bay Packers! [Referring to this year's NFC divisional round playoff game against the Green Bay Packers, when quarterback Tony Romo threw a deep pass to wide receiver Dez Bryant on fourth-and-2].
Who will you be rooting for on Sunday, New England Patriots or the Seattle Seahawks?
I like both participants in the Super Bowl. I think Seattle will win, but it should be an epic affair. Both teams are outstanding, but Seattle's defense is extraordinary.
To hear and learn more about Jones, you can catch him co-hosting the morning program with Greg Giannotti on CBS Sports Radio, weekdays from 6:00-9:00AM, ET and follow him on twitter at @JonesN4mo.
To purchase your own fierce
YOGA IS MY GYM
tanks and tops, please stop by any Surya studio location.
Namaste-
Lindsay Carlton
Surya Yoga Academy