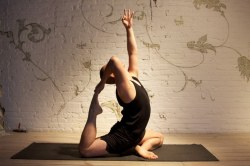 Asana is often described as a physical Yoga posture or position designed to aid in meditation and to strengthen the body.
Instructor,
Steven Cheng
from Surya Jersey City and Hoboken has been practicing asanas for 15 years.
The 42-year-old Yogi was certified with Dharma Mittra and has been teaching since 2006. On
Sunday April 19th from 2-4pm
, Steven will guide an
Advanced Asanas
class for students looking for a deeper and more exploratory practice.
"The curiosity and craving for more intensity is being addressed here in this 2-hour advanced asanas practice," Cheng said.
What kind of flow will you be teaching in your Advanced Asanas practice?
Anyone coming to my classes on a regular basis knows I teach strong flow with lots of variations. Eventually, this 60-minute format is not enough for developing an advanced practice. There is the proper warm-up and then the full cool-down with a Savasana. You end up with only about 20 minutes to really explore asana sequencing.
Students started asking for a longer format in order to examine a wider range. Instead of one chance to explore a variation, how about three different ways-- and how does that promote the blossoming of the student's practice and understanding of this movement?
The prerequisites are a strong Crow Pose and a proficient Headstand because a strong Crow Pose indicates refined arms, shoulders, and core strength to support many arm-balancing poses and a proficient Headstand indicates a good sense of balance. Expect to try dropping back from inverted poses or asymmetry in arm-balancing to challenge your skills.
Many yogi's get discouraged when they can't do certain poses or inversions, what advice do you give your students when they feel this way?
If you continue to practice regularly, the body gets stronger and more flexible. If you want that pose, whatever it is, get all the information you can from the teacher or do your own research, and after class is finished, take another 5 minutes to practice that skill. For example, if Tripod Headstand is what you want, after class ends you are still warm enough and are fully charged from Savasana to practice another 5 minutes on that specific pose. During class, you may get 5 breaths on trying that Headstand. It simply is not enough time for someone who cannot do a Headstand-- there was hardly enough time to set-up the pose. Spend extra time on that pose you really want and master that list of poses one at a time. That is the Ashtanga Yoga approach. You master the poses one at a time.
I encourage everyone to keep trying those elusive poses mindfully and intelligently. Work in productive ways to build on a pose. Within reason, nothing is impossible (note: there are times when structurally the body composition does not allow the pose to be achieved, like when you are touching bone to bone and there just is no more space to give for a certain pose).
What is the most difficult pose to learn and what's the best advice for trying to master it?
That is an impossible question to answer. But, I will say, one of the hardest things to learn is the discipline to practice and honor one's limits. Especially in hot yoga, students constantly want to push, push, and push. But pushing too hard is when injuries happen and that happens to everyone - students and teachers alike. To be mindful and discriminant in practicing productively, that is truly a masterful skill.
If a yogi is really trying to improve their practice and become more advanced, how many times a week should they practice either at home or at a Surya?
Doing anything once a week will gain very few benefits-- if a student wants to improve in a significant way, 3 or 4 practices a week is recommended. If they want to become advanced, they should practice 6 times a week with one full rest day. But I would alternate the intensity of the practice with a strong practice one day, and a basic/gentle/yin practice the next day. This way, the body continues to move and develop, yet it has the chance to recover with a low impact practice.
Through your years of practice, how did you learn to overcome a challenging pose?
I have no commitment to having to have to do any one pose because I have hundreds of other poses I can try to do that I have never done, or hundreds of other poses I can always refine-- so why struggle with any one pose? I accept that I can or cannot do this pose today. If I want I can work on it, or not. I don't get hung up on why I can't. Maybe I simply can't.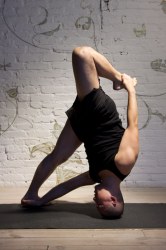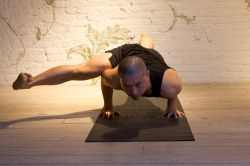 Namaste~
Lindsay Carlton
Surya Yoga Academy