Justin Condon has been a member of Hoboken Surya for 3 ½ years and he is a seasoned triathlete. A triathlon combines three sports; swimming, biking and running. The multisport race tests the endurance more than any single sport alone.

Justin has competed in ten triathlons since 2012, and plans to complete four more this year. To train for his vigorous sporting events, Justin spends all week working out. He swims, runs, bikes, lifts weights, goes to boot-camp classes and still finds time to fit in a Surya Yoga classes.

When you're in class holding one of those long and challenging poses- you know, the ones that make your legs and arms shake, you're not only building muscle strength and increasing your balance and flexibility-- you're also developing valuable physical endurance.

"Continuing through all of the movements with little to no rest, holding poses for longer than is comfortable, and all the while with what feels like less air to breathe than you would like - all help with endurance," Justin said.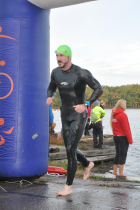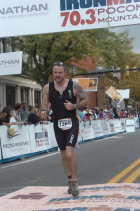 Yoga poses

Flexibility poses that open the hips, back, and shoulders can help muscle stiffness and increase the range of motion in your joints. Improved flexibility and enhanced range of motion allow triathletes like Justin to become better-rounded competitors. It increases your running stride length, improves your cycling power and helps you become a more efficient and balanced swimmer in the water.


Mental strength

Most triathletes and marathon runners will tell you that getting to the finishing line is half physical and half mental. No matter how much you train, the mental effort you need will play a critical role in pushing through a difficult moment during a race.

"Any endurance event is most definitely a combination of physical and mental. There will inevitably be times when your body tells you to stop. At that point it is all down to finding a reason to keep going. Part of that is acknowledging that there will be some pain," Justin said. "You concentrate on your breathing, on a mantra (I recite a poem on the harder stretches), on whatever distracts you from the current pain. You try to release body tension and control things where you can, and to willingly accept the discomfort where you cannot – and knowing this [the pain] is not forever."

Here's more on what Justin has to say about how his yoga practice at Surya helped him in his athletic pursuits;


Are there any yoga poses you do at home and/or before a race to help stretch you out?

There are a few – but primarily those that stretch back and legs. As an example, where I bend over and reach behind my heels, holding my heels while standing on my hands, then straightening my legs– as this not only stretches my legs, but my lower back – and actually strikingly resembles part of the aerodynamic pose on the bike leg of a tri.


What advice would you give to a Surya member looking to do a triathlon?

If you want to do it – and already are thinking of it – then you are half way there. First thing to remember – as intimidating as it can be (and these events can be intimidating and confusing, especially when you see all the super-serious folks with their grim pre-race faces and all the technical gear) – this is supposed to be fun! Pick a local event and start with a "sprint" triathlon (i.e. a beginner distance) – with a pool or lake swim (save the open water sea or Hudson River swim for another day). That said – my first triathlon was the NYC Tri (Olympic distance, swimming in the Hudson) – all depends on your comfort level.

It doesn't matter if you come in last place… the good news is that you will have just done something you never did before. That, I feel, is how achievements are truly measured.


Why do you like yoga classes?

The physical benefits obviously accrue – I love yoga as a counter-balance to all of the other exercise I do during the week. But there is also the mental aspect - yoga also provides a period when more than any other training in the week – that I am living in the now. I am concentrating on just doing the current movement and how I feel at that time. Given that endurance events are timing, statistics and variables all the time, it is nice to hit the "reset" button periodically.


Why do you like competing in triathlons?

For triathlons, marathons, mountaineering, or indeed any sport… The most important thing to me is pushing my own boundaries and limitations. I am competing against one person only – myself.

I packed on a lot of weight in my twenties, to the point where I was obese (100 pounds heavier than now) and hugely unhealthy – and I suppose, unhappy. Only in my thirties I learned (over time) to take it off – modifying habits little by little and opening myself to increasing amounts of different exercise. As the pounds started to go, my previously limited measure of my universe of possibility – also increased. I ran a 5K. I ran a 10K. I ran a half-marathon. At every juncture, I wanted to up the ante, so to speak. I tried the NYC Olympic Tri in 2010 & loved it. This year, I take it about as far as the sport of triathlon will let me take it – to full Ironman in Lake Placid this July.

Every time I do one of these - I reaffirm to myself that all the little choices over the years to get from there to here (often losing motivation and questioning myself along the way) – were worth it. In today's "get-rich-(get everything)-quick" culture I want to prove that good old-fashioned hard work pays the most consistent dividends. This new life is something I now enjoy as normal and that other guy from 10+ years ago now seems like just that – another person. And that's a nice feeling.