David Mattingly--Studio member since 2002 - is participating in 18 classes in 30 days Challenge!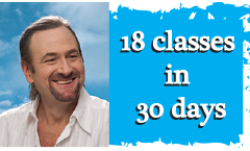 David is amazing, he has been a Surya member for 12 years and is very committed to his practice.
"I definitely plan to participate it in.
The 18 classes in 30 day challenge should be great fun!"
Sometimes we do not even know how famous people are outside the yoga mat world:
David is the author of The Digital Matte Painting Handbook, the first guide to digital matte painting.He is a two time winner of Magazine and Booksellers "Best Cover of the Year" award, and winner of the Association of Science Fiction Artists "Chesley" award.
"I did the 30 classes in 30 days challenge several years ago shortly after the studio opened. That was very hard, but also rewarding. I could feel my body change over the course of the month. At the beginning I was very sore, but by the end, my body had adjusted to the intense workout, and my practice improved considerably. I look forward to taking on this slightly less intense challenge (just 18 instead of 30), and look forward to similar results.
With the new renovation of the Hoboken studio, I also think Surya Yoga is the prettiest studio in Hoboken--the perfect place for your active meditation.
Surya Yoga is the best yoga studio in the Tri State area.
Hot yoga can be intimidating the first time you try it, but you may find yourself soon addicted to this life affirming healthy exercise."
Thanks David, you are the best!
The name sheets in the front desk are filling up for the challenge and the excitement is building.
Let's do it!