Surya Yoga Academy opened the doors to their 4th location this weekend in downtown Hoboken.
Located just steps from the Path station to New York City, the lovely studio is tucked away in a serene space at 79 Hudson Street.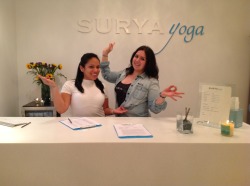 The front reception area gleamed with fresh energy and excited new yogis. A beautiful "Surya" tree decal decorated the glass door that led yogis into the studio and inside the immaculate new studio, pretty Sanskrit images that mean 'peace' wrapped around the room.
The opening weekend was filled with heat-pumping classes instructed by some of Surya's best teachers. Open to all-levels, the classes ranged from Hot Vinyasa, Bikram and Jivamukti inspired flow.
While yogis settled into class, the owners, Gagan and Reetu, bustled around with welcoming balloons and festive cupcakes embellished with cute little Surya flags which their kids put together.
Hoboken holds a special place in Gagan and Reetu's hearts. They opened the first Surya location in midtown Hoboken over 12 years ago.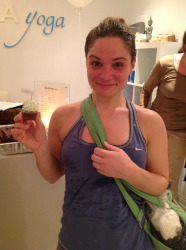 On the left is Jackie Meilak with a lovely smile, enjoying a cupcake after class on the opening day.
Yogis will also love the slightly altered class times that make it easier for members to attend evening classes at either downtown or midtown locations - plus 6am classes will be added to the downtown schedule soon.
The new studio provides Surya yogis with complimentary lockers (with locks),towels and shower if you need to get cleaned up before heading out to catch a train.
If you are new to Surya Yoga, new clients can enjoy a full week of free classes.
Spring is the season for transformations - so whether you're looking to increase your flexibility, reduces stress, or strengthen your body inside and out, Surya yoga can give you all the benefits of yoga in a warm and encouraging environment.
Here is what some of our yogis said after taking class on the opening weekend:
- Beautiful space, hot & sweaty, the way I love it. Already feel @ home -- Sheree Gold
- Beautiful facility! I really enjoy the separate changing, enter/exit area. -- Danielle Prybylek
- This place is the only one that keeps me coming back to yoga! The new space is absolutely beautiful and conducive to a relaxing, invigorating yoga experience. -- Jessica Witte-Dyer
- As an active member for 2 years, I can truly say that it will make you a happier person. -- Jackie Meilak
Thank you for making the Surya team so happy with the lovely feedback. Thank you Hoboken!
Namaste
Just Be
By Lindsay Carlton & Surya Team