Lenore Look, of Hoboken, has been practicing yoga at Surya's midtown Hoboken location for four years. The accomplished children's book author has published 14 successful titles, like "Henry's First-Moon Birthday" that was animated by Disney and the popular Alvin Ho series. Many of her books draw on her experiences growing up as a Chinese American.
In a highly competitive industry, Lenore's persistence and drive led her to powerhouse publishers, Simon & Schuster and Random House. Many of her books have even been translated into several different languages and published around the world.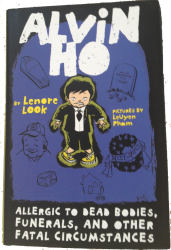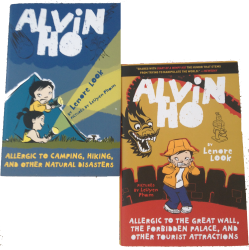 How did you get your first book published?
I sent my first manuscript to countless publishers for many years without a hint of interest from any of them. I read that insanity is doing something over and over again and expecting a different outcome. So I wrote a different story. I wasn't insane. Then another one-- still, not a word. By then, I'm sure I was certifiable because I still wouldn't take no (or silence) for an answer. Finally, after seven years of doing this, an editor at Simon & Schuster wrote back and suggested changes to one of my manuscripts. I got right down to work. I made those changes and sent it back. The editor asked for more changes. The more I edited, the more editing she wanted. It went back and forth like this for nearly two years before she awarded me my first book contract.
What's the hardest part about writing a book?
Writing the first draft-- Hemingway said it was tantamount to opening a vein at the typewriter and bleeding. It's that bad. I'm in my room alone, brooding over every sentence and word choice, hour after hour, day after day, year after year. The worst is when I have an "Oscar Wilde Day" -- it looks like this: in the morning, I put a comma in. In the afternoon, I take the comma out. And because I write for children, I have to constantly ask, would a child really say or think this? I'm always checking in with my inner child and kicking the grown-up me out of the room.
Why write children's books?
I love reading children's books more than adult books. I also have a child's voice, I don't mean my speaking voice sounds like a child's, but my narrative voice, the one that comes out when I write, is about seven years old. It must be my true age! Also, I like writing for children because they're in a place of hope. My readers have their lives ahead of them. And I want to show them what huge and beautiful beings they are. Additionally, I'm most drawn to writing about the courage of those who are born to be defeated, like my characters Alvin Ho, who is "afraid of everything," and suffers from selective mutism, and Ruby Lu, whose family is poor, and her cousin Flying Duck, who is deaf.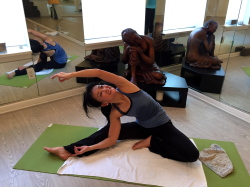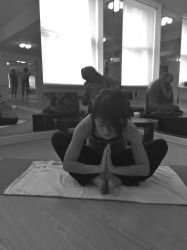 Does yoga help with your writing at all?
After sitting at my computer all day, I really need to unfold my body and STRETCH!!! Aside from the obvious physical benefits, yoga also gives me the discipline of looking inward and facing myself. It's not always a comfortable place to be, nor is it easily accessible, but the discipline of looking for myself on the mat helps me to look for the inner journey when I write. Every story is about an inner and outer journey. The outer journey moves a character from scene to scene, and the inner journey is about the changes and growth the character undergoes. You need both in a book, just as you need the visible and invisible in yoga.
Why do you love practicing yoga?
I'm easily bored and had added yoga to my routine to break the monotony of swimming and running. But after the novelty wore off, I came less frequently because I just couldn't face doing the same Bikram routine or Vinyasa flow again. So last spring, I added golf to break the monotony of yoga. And it was in learning to golf that I began to experience yoga in a different way. I'd discovered that I executed my best golf swings when I was able to turn my mind off. When I stopped thinking, analyzing and anticipating, I was bad-ass! Silent mind golf: various golfers have written about it, and unwittingly I brought it to my mat. Silent mind yoga: it's not about the yoga, it's about the mind. I've heard my instructors mention it over the years, but I didn't connect with it until I experienced how powerful it was in golf.
With such a successful and busy career, how do you find time to fit in yoga?
Yoga is the highlight of my day! All the balancing and bending and sweating like a busted fire hydrant leaves me calmer and invigorated!
To learn more about Lenore and her books, visit lenorelook.wordpress.com
Namaste
Lindsay Carlton
Surya Yoga Academy